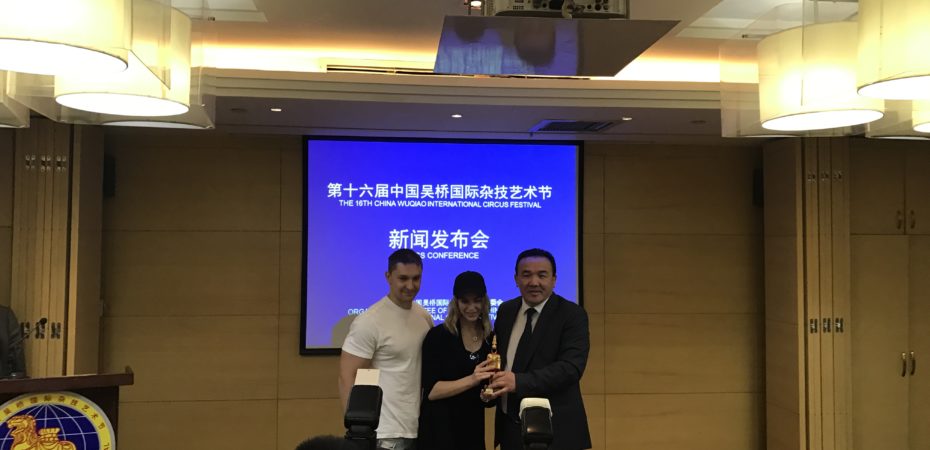 The 16th International Festival of Circus Art in China is over
5 years ago admin Comments Off

on The 16th International Festival of Circus Art in China is over
The 16th International Festival of Circus Art in China (China Wugiao International Circus Festival) is over. The organizers of the festival invited the director of The Kazakh State Circus Bakyt Bokebayev as guest of honor. He presented the special prize of The Kazgoscircus – "Altyn Adam" to the air gymnasts Julia Makeeva and Alexey Turchenko (Julia Makeeva, Alexey Turchenko, USA).
According to B.A. Bokebaev, participation in such large-scale festivals provides an excellent opportunity for popularization of The Kazakh State Circus, an opportunity to exchange experience and see the best achievements not only of circus artists of international level, but of the whole modern circus industry.
In the nearest future, The Kazgoscircus will hold an international circus festival in Almaty with the participation of the leading artists of Europe, China, Russia, Kazakhstan and other countries of the former Soviet Union in order to confirm their status, preserve, develop, promote the Kazakh national circus art and its world integration.
Within 47 years The Kazgocircus has achieved impressive and striking results: the artists of the Almaty Circus successfully represent the circus art of Kazakhstan on all five continents, participate and become laureates of world circus festivals and competitions, take a worthy place in the world elite of circus art.